Fire Extinguisher Service in Harvey, LA
Fire Extinguisher Company of Louisiana, Inc. provides a wide range of fire extinguisher service and maintenance to clients from New Orleans to Baton Rouge, LA. Using decades of industry knowledge, combined with the latest equipment and machines, we can test and refill extinguishers at your property, ensuring your firefighting equipment is ready to go at a moment's notice.
Hydrostatic Testing
Have fire extinguishers at your Harvey, LA area business that are due for hydrostatic testing? Don't hesitate to give us a call. We'll test the strengths and weaknesses of the extinguisher, carefully checking for leaks and deformities that can compromise the function of your extinguishers.
Hydrostatic testing is required for extinguishers every 12 years, and a weakened extinguisher could fail or even explode when used. Rely on us to make sure you stay on top of your hydrostatic testing schedule and protect people and property at your premises.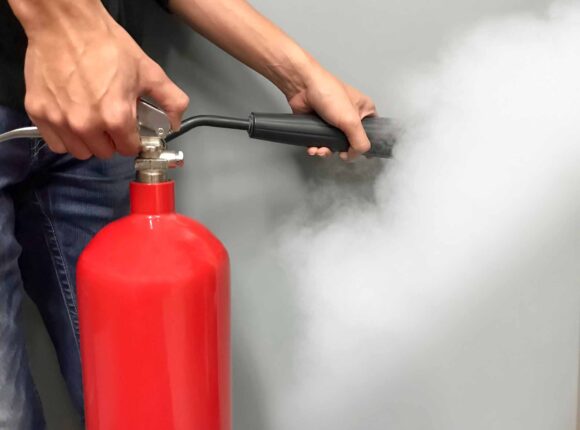 Refilling and Replacements
If a fire breaks out at your property, you need to be certain that your extinguisher equipment is going to work. Extinguishers can lose their charge over time, even if they've never been used. We can make sure your extinguishers are filled with the proper firefighting agent, in some cases completely draining it and refilling it when necessary.
In cases where extinguishers still can't maintain pressure after a recharge or show other signs of damage, we'll replace all outdated models with newer, more reliable ones.
Extinguisher Servicing
There are many essential components to every fire extinguisher. From gauges and hoses to nozzles and tanks, each part needs to be in perfect working condition to ensure an extinguisher is ready to go the moment you need it. Don't leave it to chance—call our professional team and we'll perform a complete inspection, giving you peace of mind that you're ready to respond effectively should a fire break out at your premises.
Be Ready in the Event of Fire
Fire Extinguisher Company of Louisiana, Inc. wants to make sure you're well-equipped to respond in the event of a fire. Need to test your equipment for function or make sure your extinguishers hold the appropriate charge? Give us a call today at 504-367-6442 and schedule your service!