Fire Extinguishers in Harvey, LA
Need to invest in new fire extinguishers for your Harvey, LA business? Using decades of industry knowledge and a comprehensive understanding of relevant codes, Fire Extinguisher Company of Louisiana, Inc. ensures you get the right equipment for your property.
Code-Compliant Extinguishers
NFPA fire codes can be difficult to understand, especially considering how many varieties of extinguishers are on the market. Rather than trying to figure it all out yourself, call us and we'll get you the equipment you need at an affordable price. We sell both aqueous film-forming foam (AFFF) and film-forming fluoroprotein (FFFP) fire extinguishers, as well as halogenated models. Our comprehensive inventory includes all fire extinguisher types: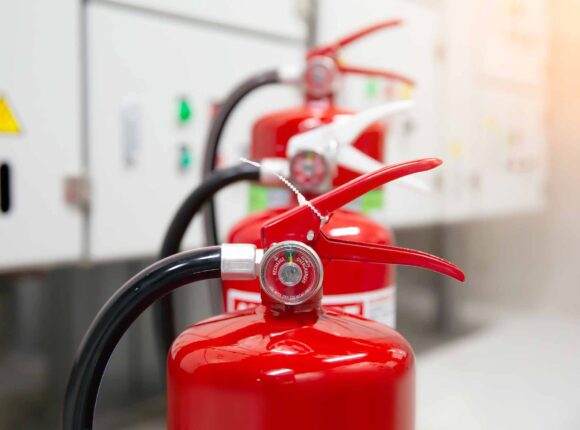 Types of Fire Extinguishers
Class A. Fires caused by ordinary combustible materials, including wood, cloth, paper and plastic. The most common type of extinguisher.
Class B. Fires of flammable or combustible liquids, including greases, oils, solvents and alcohols. Also suitable for fires caused by flammable gases.
Class C. Fires involving electrical equipment or fires caused by the malfunction of sensitive electrical components.
Class D. Fires of combustible metals, including magnesium, titanium, sodium, lithium and potassium.
Class K. Fires caused by cooking appliances that involve combustible materials such as vegetable oils or animal fats.
Extinguisher Consulting Services
Picking the right fire extinguisher is crucial for protecting life and property at any building—they're your first line of defense against a fire. As the leaders in fire extinguisher sales and consulting in the Harvey, LA region, we're the team you can trust to ensure you select the right equipment for your premises. We'll perform a site survey, classifying the right extinguisher for your unique situation, considering potential occupancy hazards and all material considerations.
We also determine the best method for distributing and placing fire extinguishers for fast, easy access in the event of a fire. We understand the ins and outs of all NFPA guidelines, ensuring your property is up to code and that you have the appropriate equipment to respond effectively.
Call for Extinguishers and Service
Fire Extinguisher Company of Louisiana, Inc. is dedicated to ensuring you have the right fire extinguishing equipment on-hand at your property. Our level of professionalism and industry insight are second to none. Call us today at 504-367-6442 to get the equipment you need.